Succumb to our artisanal baked goods made according to the French tradition. Find our branches in Quebec. 
For breakfast or for a gourmet break, we always fall for the great classics. From  pure butter croissants to healthy muffins, Paillard's know-how satisfies every craving, at any time of the day. For dessert or to mark a celebration, let yourself be tempted by our selection of pastries, chocolates and other sweets.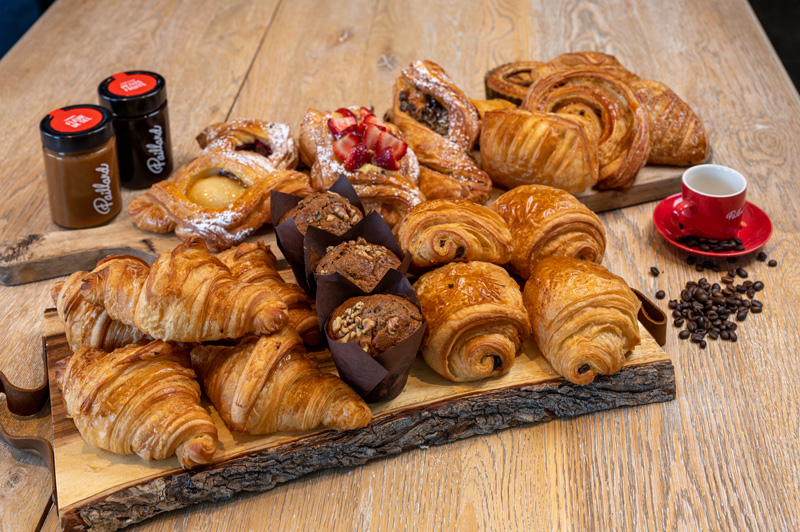 ALL BAKED GOODS
Young and old gourmands alike, come and enjoy delicious homemade pastries in our bakery in Quebec.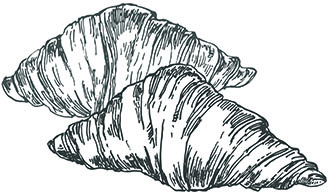 Apricot
Crescent dough, pastry cream, apricots, confectionary sugar, topping, gilding.
Forming two small ears each containing a fresh apricot, our pure butter croissant dough is folded over a generous portion of pastry cream and sprinkled with confectionery sugar. With its delicate taste, this pastry can be enjoyed at any time of the day.
The almond tree
Almond tree
Almond tree with chocolate
The brioches
Orange and white chocolate
Chocolate
Plain
Brioche bread
Turnovers
Chocolatine
Crescent dough, 44% chocolate, gilded
Our flaky pastry dough wrapped around rich bars of 44% dark chocolate. Our chocolatines are made from the same dough as the best croissant in Quebec. What more could you ask for? Best eaten while they are still warm.
Raspberry Croc
Crescent dough, raspberry jam, cinnamon, confectioners' sugar, gilding
Puff pastry turnover filled with raspberry jam, enhanced with a hint of cinnamon.
Croissants
Raisin Bread
Crescent dough, pastry cream, currant and sultana mix, rum, topping, gilding.
Luscious, sun-drenched currants and sultanas are incorporated into our puff pastry, which is baked into a spiral filled with custard. A real treat ready to melt in your mouth!
Pear tree
Crescent dough, 53% dark chocolate, pears, flaked almonds, topping, gilding
A delicious square of puff pastry with a tender pear half bathed in rich dark chocolate and topped with roasted almonds.
Temptations
Chocolate twist
Crescent dough, pastry cream, dark chocolate chips, confectionery sugar, gilding
A long, crispy, flaky twist covered in confectioners' sugar, containing custard and an abundance of dark chocolate chips.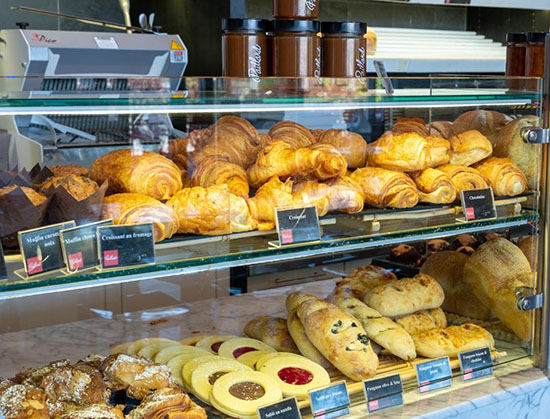 What does Paillard offer?
Breads
Baked Goods
Pastries
Pizzas
Ready to eat
Chocolate
Jams
Gift baskets
Catering service

What are the advantages?
25 years of experience
Handcrafted products
Quebec company
French know-how
User-friendly
Excellent service

Where to find us in Quebec?
Old Quebec
Neufchatel
Cap-Rouge
Saint-Hubert
Get further details on our artisanal bakery's specialities through the contact form.
At our artisanal bakery, you can choose varied and fresh products every day.
Paillard is committed to ensuring that the collection and processing of data carried out by our
paillard.ca
site complies with the General Data Protection Regulations (GDPR) and the Data Protection Act. To know and exercise your rights, particularly concerning the withdrawal of consent to the use of collected data, please consult our
privacy policy